About Upela
Upela, is a comparator between transporters and business shipping solutions
Upela is a transporter comparator giving you the best prices for shipping parcels in France and internationally (send a parcel to Canada, send a parcel to Tunisia).
Upela.com is a means of comparing the prices of the express shipping leaders, DHL, FedEx and UPS and of benefiting from negotiated discounts (as much as -75% with a business account).
Upela.com enables you to send and receive parcels in France and at 200 other destinations all over the world. We also propose accompanying companies through their international deployment process (import/export).
Upela.com has also developed a range of business tools (accessible by creating a business account free of charge) to facilitate your daily imports and exports.
Save time with Upela, and save money too...
We put ease of use first and foremost. In three stages via our website :
Your consignment : Start by collecting the following information
Origin, destination.
The details of your consignment with weight and dimensions (length/width/height).
The nature of the goods.
The sender's and recipient's addresses.
The offers : we offer you the cheapest prices from the three transport leaders: DHL, FedEx and UPS. Choose the transport option that suits your needs.
Your order : confirm, pay and print the delivery label....
What are the limits?
The only limits are the weight and size.
Weight - 1 tonne maximum
Maximum dimensions - length 302 cm x width 203 cm x height 178 cm.
And finally make sure that the contents of your consignment are not on the list of forbidden or controlled products.
Why choose the express service ?
Our express service is the only delivery service guaranteeing delivery times for your consignments to France, your shipments in Europe and to 220 countries across the world.
NOTE: we do not offer every service offered by DHL, FedEx and UPS.
Delivery time guarantee
The carriers guarantee the delivery of your consignment within the time selected, or your money back. (*the refund is subject to conditions, see the chosen carrier's terms and conditions). The on-time delivery record of our partners exceeds 96%.
NOTE: we do not offer refunds for late delivery, this being integral to our negotiated tariffs.
Delivery confirmation
Depending on your choice of option, you can have confirmed delivery either without recipients signature, or with a signature before handover of the parcel, or with an adult's* signature before handover of the parcel. Note: the adult signature option is extra. * A person over the age of majority in his own country.
Proof of delivery
Proof of delivery is sent to the sender in electronic form, you can also view the recipient's signature on-line. This notification is free!
Tracking your consignments
Our partners offer easy on-line tracking to allow you to know where your document or parcel is at any moment.
Insurance
Only the Express Delivery offers you a choice of insurances to cover all risks linked to the transport of your documents and goods
.Assistance
Twenty-four hour assistance. Our partners undertake to help you with all your consignments with multilingual support.
Refund guarantee
Our partners offer guaranteed refunds in the case of delays, even from the first minute. However, you are benefiting from very competitive tariffs through our negotiation, so in general we do not seek refunds for late deliveries except in cases of repeated errors.
Develop your business
Don't hesitate to use Upela for your business :
Make it available to your staff : an item is missing in your shop in Lille, but your shop in Madrid has one, so suggest to your staff that they use Express Delivery.
Ask your suppliers : you carry minimum stocks and need just-in-time deliveries? Invite your suppliers to take advantage of your tariffs.
Suggest it to your clients: if you want to increase your margins or simply want to offer a better service for your client deliveries. Offer Express Delivery.
By using the Express Delivery at preferential rates, you will improve:
- the turnover of your business
- your storage costs
- your productivity
- customer satisfaction
On Upela.com, you can compare the proposals by the leaders in world express shipping (DHL, FedEx and UPS) and send your documents, parcels or pallets in a few simple clicks. Generous discounts are available with the shipping companies: as much as -75% for businesses compared to public prices.
Upela.com centralizes the offers made by the express shipping leaders enabling business or private customers to reduce routing times and save money while doing so. By creating a free account, business or private customers get access to innovative tools enabling them to manage their shipments easily every day: deferred payment, shipping by the simple import of an Excel spreadsheet, e-commerce module for Prestashop, etc.
Upela.com was designed to gain time for the user at every step of his shipment. All additional expenses and taxes (excluding customs duties) are included in the proposed price: the customer never has an unpleasant surprise when his order is finalized.
More than 220 destinations are accessible for import and export services. Parcels are collected from your home and delivered directly to your recipient' s home (or business address).
Why create a business account on Upela?
Creating a business account on Upela is totally free of charge. Our business account entitles you to negotiated discounts for shipping your parcels with our partner transporters FedEx, DHL and UPS: we propose preferential rates of up to -75% less than the public prices!
The advantages of the business account on Upela
With an Upela business account, you have (free) access to our range of services designed for the corporate world, to facilitate your shipping approaches (import, export, returns) every day. In addition to our preferential rates for professionals, we suggest that you benefit from an address book to manage your shipments, the deferred payment of your shipments, the setting up of repetitive tasks, as well as a return and import tool (which automatically generates a prepaid shipping form), or mass shipments for deliveries of single products or samples etc.
All these tools, combined with our simple and high-performance shipping solution, gain time for you on each of your shipments, while also making savings.
Upela business account and development aid
By creating an Upela business account, you are also entitled to use personalized aid to accompany your international development. It takes a simple call or message and we will propose a customized estimate or import/export assistance for your small or medium-sized firm: simply contact us using the dedicated section. Together, we will look at the logistical solutions that we can offer you for regular or spot shipments.
As a professional, why choose Upela?
Over the last 20 years, we have built up import/export experience enabling us to offer you the best rates for shipments to more than 200 countries, without going through France, by benefiting from the expertise of the world express shipping leaders (UPS, FedEx, DHL) with the greatest simplicity!
How to create a business account on Upela?
To create a business account on Upela, and totally free of charge, click on " Register" at the top right of the Upela homepage.
Enter your information to create an Upela business account
Fill in all the required fields: the fields marked with a red asterisk are required. We will ask you for information about your company (RTC or SIREN, address, country) and your particulars (name, first name, phone number). Then indicate whether you would like to receive promotion information and newsletters from Upela, and click on "Create my account". You are now enrolled as a business user on Upela.com!
Why create a business account on Upela ?
With your free business account, you are entitled to negotiated discounts (as much as -75% compared to the public prices) with the express shipping leaders (DHL, FedEx, UPS) and to a range of business services.Refer to the "Upela business account" section for more information."
Manage your business account
How can I change my Upela login?
Connect to your business account by going to "Connection" in the top right. When you are connected, click on "Parameters" (left hand column) of your dashboard: it is the next to last button, just before " Disconnect" . You can now change your login and your contact email address, the one you use for receiving your notifications and messages from Upela (current orders, arrival or departure of parcels, invoices …)
How can I change my Upela password?
Again in the Parameters field of your Upela business account, click on the "Password" tab. Enter the former password then choose a new passport in "New" then type it again ("Retype" field).
Changing the information concerning my Upela business account
You can also change and update the information you entered at enrollment in the "My information" tab. All the information about your company and your particulars can be changed in this section.
Other changes to my Upela business account
You can also change your "SEPA withdrawal" preferences in the "Parameters" section of your business account. The SEPA withdrawal, which replaces the process of a bank withdrawal with account identification, enables you to set up a withdrawal authorization on your bank account so that you do not have to pay for each individual order by hand. To set up the SEPA withdrawal arrangement, simply follow the instructions, in 3 steps.The last tab, "Options" enables you to set up the repetitive tasks. Click on our "default setting up" item for more information about this tool."
Improving shipment management with the business account
How to improve my shipment management?
Create a business account free of charge on Upela to benefit from our shipment management tools. To open a PRO business account, simply go to the "Creating an Upela business account" page.
The tools available to improve my shipment management
We have designed many business tools to help you with the everyday management of your shipments. With your Upela account, your order book enables you to select a frequent recipient without having to enter his address for each individual shipment. Our returns and imports tool enables you to send a prepaid shipping form to the sender of your parcel for after sales service returns, exchanges etc. Our file import shipping tool saves time for you by associating, for instance, your business management tool with our shipping invoice, using .csv or Excel file export. Why not discover all our tools on our blog?
Contact Upela for personalized accompaniment concerning the management of your daily shipments
As a business account, with Upela you are entitled to personalized accompaniment to improve your daily shipment management: feel free to contact us for advice and customized quotes. We can also help you with your international development (import/export) with more than 200 countries, with negotiated discounts with the leading transporters like UPS, FedEx and DHL (up to -75% less than public prices for business customers).
Manage your Upela business account with the dashboard
How do I open my dashboard?
The dashboard is the interface you see when you connect to your business account on Upela, by clicking on "Connection" (at the top right) of the home page for instance. It appears as follows: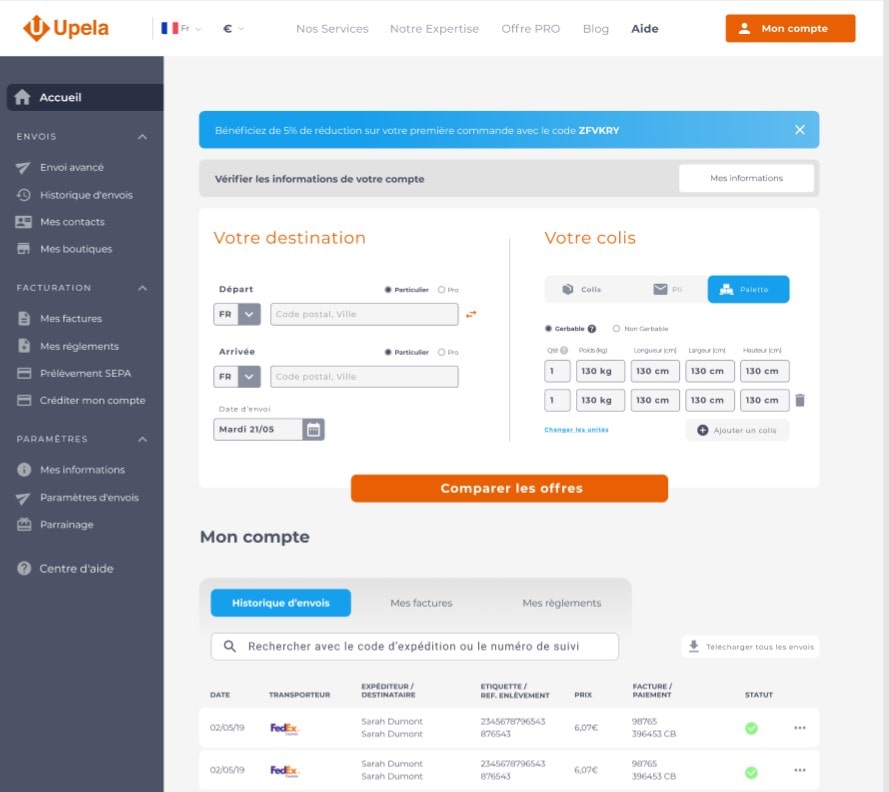 Upela Business Account: presentation of dashboard
Naturally, you can use your dashboard for a single shipment (first button) or using your address book (second button). To make shipments of the same product or of samples, you can use the mass shipment option (your recipients must all be included in your address book). Transmission by a file enables you to import a .csv or Excel spreadsheet containing your shipping information in order to automate the process. There is a return/import tool you can use for sending a shipping form to your recipient, for instance for a return or an after sales service replacement.
The second part of your dashboard enables you to manage your contacts, locate your various shipments and invoices, your payments, you can also credit your account. With your parameters, you can modify your personal or business details and automate your repetitive tasks (more information here).
<< Return to the categories